CY 2015 Real Property Transfer Tax Report Highlights
The Department of Finance recently released the New York City Real Property Transfer Tax (RPTT) report for calendar year 2015 showing an all-time high RPTT liability of $2.587 billion. The total amount of transfer taxes levied on residential property transactions was $639 million and the total amount for commercial transactions was $1.948 billion.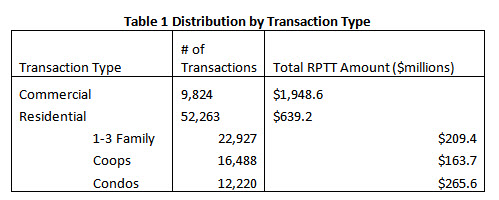 The table above highlights the number of transactions and RPTT liability for each residential property type. Condos had the biggest share of the three categories, followed by coops.



Table two takes a deeper look into the distribution by borough and property type. Manhattan has seen substantially more considerations and more taxes paid for the condos and coops than any other borough, however Brooklyn and Queens surpassed the other boroughs in the 1-3 family category.

The RPTT is imposed on transfers where the consideration exceeds $25,000 and is usually paid by the seller. The RPTT rate applied to home sales is 1 percent of the taxable consideration if $500,000 or less, and 1.425 percent if the taxable consideration is more than $500,000. Commercial transfers are taxed at the same threshold but at the rates of 1.425 percent and 1.625 percent respectively. It should be noted that New York State also imposes a separate transfer tax.

To see the full report, click here.
Tags:
Property Transfer Tax
,
Report
,
Numbers
,
Department of Finance
User Comments
Related Posts
Assessments For Fiscal Year 2018 - Read The Story from February 17, 2017 »
THE REAL ESTATE BOARD OF NEW YORK NUMBERS YOU NEED TO KNOW 2016 - Read The Story from August 4, 2016 »
REBNY Report's on Gentrification - Read The Story from May 18, 2016 »